A project to save coral reefs from the effects of climate change has been launched at Nature Seychelles' headquarters, Roche Caïman.
The work will involve growing corals and planting them at various sites, and follows the worst damage to Indian Ocean reefs from bleaching for more than 10 years.
US ambassador Mary Jo Wills and Nature Seychelles' chief executive Nirmal Shah signed an agreement for the funding of the $513,825 project by the US Agency for International Development (USAID).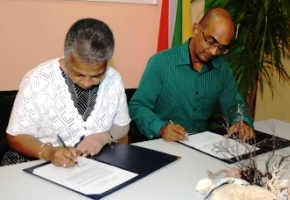 Among those present on Tuesday were Minister for Investment, Natural Resources and Industry Peter Sinon, principal secretary for Foreign Affairs Maurice Loustau-Lalanne, vice-chancellor of the University of Seychelles Dr Rolph Payet, members of the diplomatic corps and representatives of government and civic organisations.
Mr Sinon said there is an immediate need to seriously consider mitigating the effects of climate change, or adapting to them as this new project will seek to do.
While coral reefs continue to act as our first defence from rising ocean levels that threaten our shores, they also remain the most important habitats and spawning grounds for fish which are our main source of protein and a key part of our daily diet, he said.
Mr Sinon said the loss of the reefs would be very worrying. The time has come to stop talking about the problem of climate change and start taking action against it.
"Here I'm very happy to see an innovative solution being offered," he said.
"Finally a project to restore the reefs that have been destroyed by climate-induced bleaching is being launched. This is indeed a breath of fresh air."
Mr Sinon noted that the project will train many people who will be able to restore corals in other parts of the region, for example through the Institute of Marine Sciences based in Zanzibar and the Mauritius Oceanography Institute.
Mrs Wills said the US is happy to partner with Nature Seychelles in the three-year project, called Reef Rescuers – restoring coral reefs in the face of climate change.
"Coral reefs in the Indian Ocean are now dying from the worst bleaching effect in more than a decade," she said.
"The bleaching, triggered by a large pool of warm water that swept into the Indian Ocean in May this year, has caused corals from Indonesia to Seychelles to whiten and die."
She noted that Seychelles had been badly affected by bleaching in 1998 caused by the warming of the seas in the El Nino effect.
"The Nature Seychelles-led coral reef rescue and restoration project contains balanced and practical activities for the conservation of important coral reef ecosystems on Cousin and Praslin islands," said Mrs Wills.
"This project is a component of the US government's strategic global commitment to partner with governments, civil society organisations and other relevant stakeholders to address the impacts of climate change."
Noting that Seychelles' economy depends 100% on the ocean, Mrs Wills said President Barack Obama and the people of the US recognise the huge value of the oceans, islands and coastal communities to the nations of the world.
Dr Shah said the project will involve restoring reefs in Seychelles by growing corals and planting them at various sites.
He said no healthy corals will have to be broken. Many are already broken, and from those they will select the right ones to propagate.
Experts from around the world, including Israel, will be involved in the project, he added.
Mr Shah also said it is time not just to talk about coral bleaching but to do something about it.